Nanotech Middle East 2020 Conference and Exhibition
Nanotech ME 2020
24 - 26 Feb 2020 | Dubai United Arab Emirates
Speaker's Details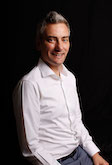 Prof. Robert E. Simpson,
Singapore University of Technology and Design, Singapore
Dr Robert E Simpson (Assistant Professor) holds an Assistant Professor position at the Singapore University of Technology and Design. His group's research lies in the design and development of new materials for applications in photonics, electronics and data storage. Before Joining SUTD Robert spent his postdoc years in Japan and Spain. After completing his PhD he was awarded a fellowship from Japanese Society for Promotion of Science and spent 3.5 years at the CAN-FOR research group, directed by Prof Junji Tominaga, at the Japanese national institute for Advanced Industrial Science and Technology (AIST). In Spain Robert joined the group of Prof Valerio Pruneri as a COFUND Marie Currie Fellow at the Institute of Photonic Sciences (ICFO) in Barcelona.
In 2012 Robert moved to the Singapore University of Technology and Design, where he formed the ACTA research group. The ACTA research group aims to exploit atomistic modelling and experimentation to design new functional chalcogenide materials for applications in photonics, data storage and nanoelectronics. Robert's PhD is from the University of Southampton, UK, where he studied under the guidance of Prof Dan Hewak in the Optoelectronic Research Centre (ORC). His PhD thesis was titled "Chalcogenide Materials for Next Generation Data Storage"