Nanotech Middle East 2020 Conference and Exhibition
Nanotech ME 2020
24 - 26 Feb 2020 | Dubai United Arab Emirates
Speaker's Details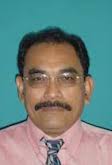 Prof. Radzuan Bin Junin
Universiti Teknologi Malaysia, Malaysia
Prof. Junin is currently the Head of Petroleum Engineering Department at Faculty of Petroleum & Renewable Energy Engineering, Universiti Teknologi Malaysia. Prof. Radzuan Junin completed his PhD in Petroleum Engineering in 1996 at University of Nottingham, England, U.K.
Also, He has published more than 127 papers in reputed journals. Besides, His current focused research areas include Oil Mobilization, Oil Recovery, Drilling Nanotechnology, Geochemistry…
He was awarded Silver Medal of Industrial Art & Technology Exhibition (INATEX 2001), Bronze Medal, (ITEX 2001). Putra World Trade Centre (PWTC), Staff Excellence and Consultancy Excellence Awards (2004) of Universiti Teknologi Malaysia.