Nanotech Middle East 2020 Conference and Exhibition
Nanotech ME 2020
24 - 26 Feb 2020 | Dubai United Arab Emirates
Speaker's Details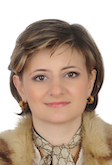 Prof. Basma El Zein
King Abdullah University of Science and Technology (KAUST), Saudi Arabia
Dr. ELZein Dean of Scientific Research, University of Business and Technology (UBT) , Jeddah, Saudi Arabia, She was a research scientist at KAUST and associate researcher at IEMN, France. Dr. El Zein is a grand Judge at Intel ISEF- USA, examiner at King Abdul Aziz city for science and Technology ( KACST), and a renowned guest speaker at many international conferences on renewable energy and nanotechnology. During her previous positions, she supervised many Ph.D. students and around 200 final year projects - bachelor degree. She is a reviewer for many international, peer-reviewed journals, the chair or co-chair and on committees of different international conferences. Dr. El Zein is a senior member of IEEE, member of ACS, MRS, SPIE, ECS, IET, AUTM, AAAS, AASBC, ECS and Lebanese Engineering Syndicate.
Dr. Basma graduated from the University of Lille, France with a Ph.D. in Nanotechnology Engineering with High Distinction for her research Zinc Oxide Nanostructures for Photovoltaic Applications. Her master degree was from the Lebanese University, Lebanon in the field of Electrical and Electronics Engineering with Distinction.
Her research interest is currently in Energy Conversion and Energy Storage. The main objective of Dr. El Zein research is to develop an eco-green Solar Cells with high efficiency and long durability. In addition, she is exploring new materials such as kesterite, perovskite, and protein to be used as a light absorber for Solid State Sensitized Solar Cells. She is also exploring Printed Metal Oxide Batteries.
Her previous research included Telecommunication, Artificial Intelligence, auto-control and auto-command by programmable logic controllers, and Computer Vision. She has a textbook entitled "Nanostructured materials for Photovoltaic applications" and she has many publications in this field. Additionally, she published in many international journals and has one patent filed in the USA related to materials for Solar Cells.
Dr. El Zein was acknowledged for her remarkable contribution to the field of research, teaching, community service, and industry in Saudi Arabia.
She has been featured by Marquis Who's Who as top scientist and top educator in 2019.
She was awarded:
- The Albert Nelson Lifetime Achievement award in 2018 by Marquis Who's Who.
- Solar Pioneer by Middle East Solar Industry Association (MESIA) during the world future energy summit 2015, Abu Dhabi.
- Distinguished Achievement Award in Solar Energy and Nano-Technology, by:
• Lebanese Embassy in Emiratis, 2015
• Lebanese Business Council in Emiratis, 2015
• LU-EDST AZM Biotechnology Center, 2015
• Lebanese University, 2015
• Lebanese Cultural Council, 2015
- Granted 2 funded research for her research on Nanomaterials for 3rd generation Solar Cells in 2013 and 2014.
- Outstanding Intellectuals of the 21st Century in 2010
- Top 100 educators in 2010
- Who's who the world, 2000