5th Ed. Smart Materials and Surfaces - SMS Conference
SMS 2019
23 - 25 Oct 2019 | Lisbon Portugal
Speaker's Details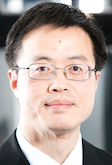 Prof. Richard Fu (YongQing)
Northumbria University, UK
He was a Reader in Thin Film Centre in University of West of Scotland, Glasgow, UK, and a lecturer in Heriot-Watt University, Edinburgh, UK. He obtained his PhD degree from Nanyang Technological University, Singapore, and then worked as a Research Fellow in Singapore-Massachusetts Institute of Technology Alliance, and a Research Associate in University of Cambridge.
He has extensive experience in smart thin film/materials, biomedical microdevices, energy materials, lab-on-chip, micromechanics, MEMS, nanotechnology, sensors and microfluidics. He has established a worldwide reputation from his pioneer research work on shape memory films, piezoelectric thin films, nanostructured composite/films for applications in MEMS, sensing and renewable energy applications.
His research has been funded by Engineering and Physics Science Research Council (EPSRC), Royal Society, Royal Academy of Engineering, Carnegie Trust, UK Fluidic Network, Royal Society of Edinburgh, Scottish Government, Scottish Union Physics Alliance (SUPA), Nuffield Foundation, Innovate UK/Knowledge Transfer Partnership (KTP), AWE-UK, EU-Erasmus, Scottish Sensor System Centre/CENSIS, Scottish Funding Council and National Science Foundation of China, etc.
He published over 350 science citation index (SCI) journal papers (including Nat. Comm., Prog. Mater Sci, Nano Energy, Nano Lett., Chem. Mater., J Mater Chem A, Advanced Drug Delivery Review, etc.) 2 books, 20 book chapters, and over 120 conference papers. His current SCI H-index is 42 with over 6900 citations (up to Oct 2018), and his Google scholar H-index is 53.
He has extensive teaching experience in three UK universities with the teaching modules covering Mechanical Engineering, Material Science/Engineering, Physics, Renewable Energy, and Electrical Engineering. He has actively involved in departmental/institutional development in the past 10 years, and served various duties in teaching, research, social and networking activities.
He is associate editor/editorial board members for seven international journals including Scientific Report. He is regular journal paper reviewers for more than 40 journals, and has co-organized 12 international conferences worldwide, and co-edited eight special issues for journals.
He is now served as the Regional President of International Thin Film Society, and Regional Secretary of Taiwan Thin Film Society, and Committee Member of Chinese Society of Heat Treatment and Metallurgy/Chinese Society of Surface Engineering.