Nanotech Middle East 2017 Conference and Exhibition
Nanotech ME 2017
04 - 06 Dec 2017 | Dubai United Arab Emirates
Speaker's Details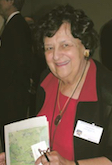 Dr. Miriam Balaban
Desalination and Water Treatment Journal, European Desalination Society - Rome, Italy
Miriam Balaban is a graduate in chemistry of the University of Pennsylvania in Philadelphia, PA, USA. She is founder of Desalination, the international journal for desalting and purification of water and was Editor-in-Chief from 1966 to 2009. In 2009 she launched the monthly journal Desalination and Water Treatment to accommodate the growing flood of papers in the expanding field. She has reviewed and edited over 20,000 papers from over 100 countries. She has edited and published several books in the field. She is editor and publisher of the Desalination Directory, the international online database in desalination and water reuse which serves to network over 30,000 individuals and 5,000 academic and government institutions and companies with full access details, a calendar of events and other information.
She is Secretary General of the European Desalination Society at the University Campus Bio-Medico, Faculty of Engineering, Rome, Italy where she programs and organizes courses, conferences and workshops in desalination. She is associated with the desalination program of the Center for Clean Water and Energy in the Department of Mechanical Engineering of the Massachusetts Institute of Technology (MIT). She has served as a board member and officer of the International Desalination Association and received the Lifetime Achievement Award from the Association in 2009. She is an honorary member of the European Membrane Society and was a member of the review committee for the Desalination Roadmap of the US National Research Council National Academy of Science. In 2012 she was awarded the Star of Italy from the President of Italy, and in 2014 received the Sidney Loeb Award from the European Desalination Society. She has organized numerous desalination conferences around the world, is chairman, member of the Scientific Program Committees and speaker at numerous desalination conferences and is actively involved in paper selection and program composition.
She has been a research associate for science communication at Boston University, Center of Philosophy and History of Science. She was president of the International Federation of Science Editors and was Professor and Dean of the School for Science Communication at the Mario Negri Institute for Biomedical Research.