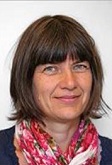 Prof. Ulla Birgitte Vogel
National Research Centre for the Working Environment, Copenhagen, Denmark
Prof Ulla Birgitte Vogel Research Interests are:
Molecular Epidemiology
The research focus is:
1. gene-environment interactions between lifestyle factors and genetic variation in relation to cancer in breast, lung, colon, skin, and prostate, in relation to risk of inflammatory bowl disease, in relation to coronary heart disease. Lifestyle factors include alcohol, smoking, air pollution, meat, fruit and vegetables, lipids, NSAID use ect. The aim is to identify gene-environment interactions which identifies genes as involved in carcinogenesis and which identify large subgroups which are more susceptible to carcinogens than the average population. The majority of the research is performed in collaboration with the Danish Cancer Society using the prospective 'Diet, Cancer and Health Cohort'.
2. Identification of genetic variations that interact with treatment outcome in cancer treatment is another focus area. We search for genetic variations which crucially interact with chemotherapy in relation to treatment of multiple myeloma, colon cancer and lung cancer.
Nanotoxicology and particle toxicology
The research is focussed on the identification of the inflammatory and mutagenic effects of pure nanoparticles and nanoparticles imbedded in a matrix. Our research aims at studying:
1. biodistribution of inhaled, ingested and injected nanoparticles
2. physical and chemical characterisation of airborne and suspended particles
3. potential health effects of exposure to pure and imbedded nanoparticles in vitro and in vivo in terms of inflammation, acute phase response, DNA damage, and gene expression
4. health effects of prenatal exposure to nanoparticles in terms of inflammation, gene expression, DNA damage and DNA instability