The 4th Edition of the European Graphene Forum 2018
EGF 2018
23 - 25 Oct 2018 | Venice Italy
Speaker's Details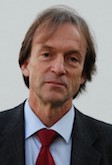 Prof. Thomas Reiss
Fraunhofer Institute for Systems and Innovation Research ISI, Germany
Dr. Thomas Reiss is Head of the Competence Center "Emerging Technologies" at the Fraunhofer Institute for Systems and Innovation Research (Fraunhofer ISI) in Karlsruhe, Germany. He holds a doctoral degree in Molecular Biology from Freiburg University (1983). Between 1983 and 1986 he worked as a Research Associate at the University of Freiburg; from 1986 to 1987 he was a Post Doctoral Fellow at the MSU-DOE Plant Research Laboratory, Michigan State University, USA.
In 1987 he joined Fraunhofer ISI as a Project Manager. From 1996 – 2004, he was the Head of the Department "Innovations in Biotechnology". Since 2005, Dr. Reiss has been Head of the Competence Center Emerging Technologies. From August 2006 to March 2007, he was also Deputy Director of the Fraunhofer ISI.
His research is focusing on national and sectoral innovation systems; monitoring, foresight and assessment of new technologies; and innovation policies. Current and recently finished European projects include: "Updating the science and technology roadmap for graphene, related two-dimensional crystals, and hybrid systems": 2014 – 2016; "EU KETs - supported INNovative INDUSTRY for HIGH GROWTH and SUSTAINABLE GLOBALIZATION (EU KNIGHTS)": 2013-2014; "Integrated EST framework (EST-Frame)": 2012-2014; "Mapping the NANOtechnology innovation system of RUssia for preparing future Cooperations between the EU and Russia (NANORUCER)": 2009-2011; "Economic foresight study on industrial trends and research needed to support the competitiveness of European industry around 2025 (NMP-Foresight)": 2010-2012; "Emerging Research Areas and their Coverage by ERC-supported projects (ERACEP)": 2009-2013; "Complexity, from Nanotechnologies to large Electronic systems (ComplexEIT)": 2007-2009.
He is member of the Management Committee of the European Techno-Economic Policy Support Network (ETEPS), member of the Peer Review Panel of the European Science Foundation, and member of the editorial boards of the "International Journal of Biotechnology" and the "International Journal of Learning and Change". Recently he has been elected as member of the Executive Board of the European Graphene Flagship Initiative. At the Karlsruhe Institute of Technology (KIT) he gives a lecture on the "Management of New Technologies". Prof. Yuhei Hayamizu, Department of Materials Science and Engineering at the Tokyo Institute of Technology, Japan.