Nanotech Middle East 2017 Conference and Exhibition
Nanotech ME 2017
04 - 06 Dec 2017 | Dubai United Arab Emirates
Speaker's Details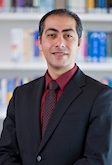 Prof. Rashid K. Abu Al-Rub
Masdar Institute, Abu Dhabi, UAE
Professor Abu Al-Rub is currently an Associate Professor at Masdar Institute. He has been an Assistant Professor of Civil Engineering at Texas A&M University with joint appointments with the Materials Science and Engineering Program since 2007. He is also an Adjunct Professor in the Department of Aeronautics and Astronautics at Air Force Institute of Technology of Wright-Patterson Air Force Base. He received his Ph.D. in Civil Engineering from Louisiana State University in 2004, and his MS in 2001 and BS in 1999 in Civil Engineering from Jordan University of Science and Technology.
He has published one book and over 150 publications in book chapters, archival journals, and conference proceedings. Professor Abu Al-Rub has served as the principle/co-principal investigator of more than 20 projects sponsored by various state, federal, and international agencies; he is responsible for more than $7Million. In 2007, he has been selected among nine leading scientists in the US by National Science Foundation and Department of Energy to design new grades of advanced high strength steels for the auto industry. He is one of the members of the US National Science Foundation supported "International Institute for Multifunctional Materials for Energy Conversion."
He is a member of the Asphalt Research Consortium (ARC) of $30Million research efforts funded by the Federal Highway Administration to develop PANDA (Pavement Analysis using a Nonlinear Damage Approach) finite element software. Professor Abu Al-Rub has received the 2012 ASME Certificate of Appreciation Award, and has been selected among the Scholar Google 100 Most Cited Authors in Civil Engineering. He has twice been recognized by The Texas A&M University System with its student-led teaching excellence award, in 2009 and 2011.
In 2010 he received the Truman R. Jones Excellence in Graduate Teaching Award and the Tenneco Meritorious Teaching Award from the Dwight Look College of Engineering at Texas A&M University. In 2011, he received the Beer and Johnston Outstanding New Mechanics Educator Award from the American Society for Engineering Education. He is on the editorial board of three journals and member of several professional organizations (ASME, ASCE, SES, AIAA, ASEE, etc).