5th Ed. Smart Materials and Surfaces - SMS Conference
SMS 2019
23 - 25 Oct 2019 | Lisbon Portugal
Speaker's Details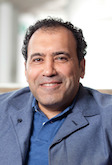 Prof. Ahmed Elmarakbi
Faculty of Engineering and Advanced Manufacturing, University of Sunderland, UK
Professor Elmarakbi obtained his PhD in Mechanical Engineering from University of Toronto, Canada (2004). After a couple of successful postdoctoral fellowships in Canada and Japan, he moved to the University of Sunderland, UK in 2007, where he is, currently, Professor of Automotive Composites. His research interests lie in the area of energy-efficient and safe vehicles (EESVs) including low carbon vehicles, advanced composite materials, including graphene related materials, for automotive applications, hierarchical meso-architectures as heterogeneous catalysts, and multi-functional materials modelling and design.
His work outcomes are recognised both nationally and internationally as evident from his 90+ invited talks and presentations; 150+ peer-reviewed research papers and patents. Most recently, he has published the book: A. Elmarakbi (2013) "Advanced Composite Materials for Automotive Applications: Structural Integrity and Crashworthiness", Wiley, UK.
He is member of the EU Graphene Flagship and also is laureate in the '1000 talents'-program of China. He has been involved in various professional activities: served as an Expert Reviewer for FP7, Horizon2020 and EPSRC; Founding Editor-in-Chief of International Journal of Automotive Composites; Chaired and convened a number of international conferences; and Chairman of the International Conference of Automotive Composites (1st edition was held in Lisbon, Portugal from 21-23 Sep. 2016).
He has an extensive track record of international collaboration with the automotive industry and world-class academic institutions over the last 20 years. He has extensive experience in managing national and international projects, including multi-disciplinary collaborative projects with Europe, USA, Canada, China, Japan, and Brazil. He has received many prestigious awards and grants world-wide, including EPSRC, NSERC, JSPS, OGS, FP7, Horizon2020, Graphene Flagship, and several fellowships.