5th Ed. Smart Materials and Surfaces - SMS Conference
SMS 2019
23 - 25 Oct 2019 | Lisbon Portugal
Speaker's Details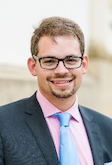 Mr. Benedikt Steiner
MultiPhoton Optics, UK
Benedikt is a graduate from the University of Tübingen, Germany, where he received his Vordiplom (~BSc) in Geosciences, and from the Royal School of Mines, Imperial College London (MSci).
Benedikt started his career at Neftex Petroleum Consultants Ltd. where he was involved in regional petroleum exploration targeting in the Eastern Former Soviet Union. He then went on to work for a number of years on Rio Tinto Exploration's brownfields and greenfields uranium and copper exploration projects in Namibia and Zambia respectively, where he developed a best practice operating mentality. More recently, Benedikt is involved in exploration projects and studies in Sierra Leone, Finland and Myanmar. He has a strong interest in target generation and testing using an array of geophysical and geochemical techniques. In particular, Benedikt has specialist knowledge in interpreting geochemical datasets and integrating the results with other geoscientific data in order to aid exploration targeting.
Benedikt is a chartered fellow of the Geological Society of London and the Society of Economic Geologists. He is fluent in English and German, has a working knowledge of French and has basic skills in Spanish, Russian and Afrikaans. In his spare time Benedikt enjoys the outdoors, swimming and holds a general interest in medieval and modern history.