The International Conference on Surfaces, Coatings and Interfaces
SurfCoat Korea 2018
28 - 30 Mar 2018 | Incheon, Seoul Korea
Speaker's Details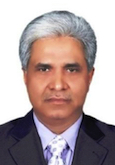 Prof. Faiz Ahmad
University of Technology Petronas (UTP), Malaysia
Graduated in B.Sc Engineering (Metallurgy & Materials Science) from Faculty of Engineering and Technology, Punjab University, Lahore Pakistan. Completed Ph.D research on controlling short fiber orientation in metal matrix composite produced by Powder Injection molding, UK and degree was awarded in Nov.1990.Worked 10 years for Govt. of Pakistan, Principal Research officer and moved to teaching where worked for 3 years and then joined university Technology PETRONAS, Malaysia from its early days of growth. He has 25 years of experience in research and teaching, supervision of degree, MS and Ph.D students in the field of materials. Over the years of experience; have a chance to contribute in materials engineering:
Developed bi-composition tungsten alloy for impact application via powder metallurgy.

Hybrid fiber composite and their machining for aerospace and automobiles-vacuum infusion molding.

Powder injection molded 316L Stainless steel with improved properties and corrosion control for bio medical application.

Developed Nano composites with thermal conductivity value of 680w/mk for thermal management of electronics,

Developed several formulations of Intumescent fire retardant coating for structural application and patents are pending

Commercialized Nano composite for thermal management of LED light
He has 78 Scopus listed and 46 Web of Science- and google scholar 218 publication. In addition, 9 patents filled-one granted. He edited one Book on- Bio medical materials.
So far, won 25 Gold medals, 20 Silver medals from the Science and technology exhibition around the globe.