Nanotech Middle East 2017 Conference & Expo
Nanotech ME 2017
04 Dec - 06 Dec 2017 | Dubai - United Arab Emirates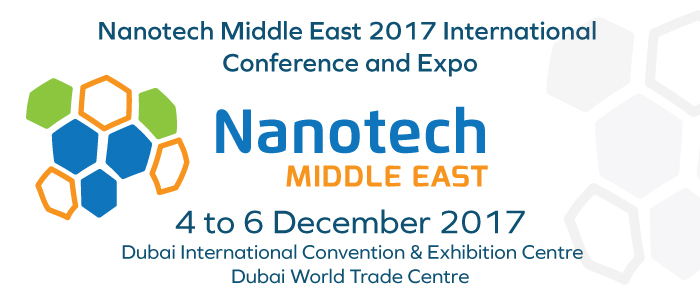 Welcome
Nanotech Middle East 2017 Conference and Exhibition
Dubai International Convention and Exhibition (DICEC) - Dubai World Trade Centre
4 - 6 December 2017
From its origin as Nanotech Dubai, the event grow for this 2017 to become the Nanotech Middle East 2017 Conference and Exhibition - Nanotech ME 2017 with the venue the state-of-the-art Dubai International Convention & Exhibition Centre (DICEC)/Dubai World Trade centre - www.dwtc.com - from 4 to 6 December 2017.
The successful conclusion of the previous Nanotech Conference and Exhibition editions were rewarding. The quality and number of Nanotech academia professionals and industry specialists who attended the three-day event proved to be very effective and added a positive and encouraging facet to the existing status of the event. The organising committee was determined and motivated to extend the event scale through taking the important move to bring the event to the Dubai International Convention & Exhibition Centre, label it as the main Nanotech event in Middle East, North Africa, Africa and South Asia Region and aiming to make it as one of the main Nanotechnology event, Exhibition and Conference, globally.
Nanotech ME 2017 conference will present a very comprehensive scientific program highlighting the latest topics and covers all frontier topics in nanotechnology. The conference includes plenary lectures and invited talks by eminent personalities from around the world in addition to contributed papers both oral and poster presentations. brings together leading scientists, researchers, eng ineers, practitioners, technology developers and policy makers in nanotechnology to exchange information on their latestresearch progress, innovation and business opportunities. It's among the most important events in terms of international regulatory policies and it's opened to the participation of private companies. It's unique venue for companies to promote equipment and tec hnology.
The Nanotech ME 2017 exhibition is the gateway to the emerging and far-reaching nanotechnology market in the MENASA region. A wide-ranging products, equipment and services will be displayed. A number of practical and interactive activities will run alongside the exhibition halls.
Jointly and parallel to the Nanotech event, the organising committee is launching two related and important topics events: Biotech Middle East 2017 (Biotechnology Conference and Expo) and Surtech Middle East 2017 (Surface Treatment, Plating & Painting Technology Exhibition and Conference). For further details about these concurrent events, follow their links under the section Concurrent Events.