Graphene Korea 2020 International Conference
Graphene Korea 2020
27 May - 29 May 2020 | Incheon - Korea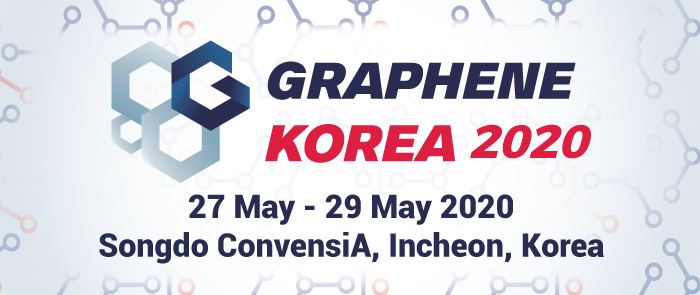 Graphene Korea 2020 International Conference
New Materials for the 21st Century
Graphene, the single layer carbon based material, is transparent, flexible, and has excellent electronic properties. As it is called "the dream material," graphene holds innumerable application potential. It is a material that still requires consistent research and at the same time it is a material that may hold the key to future electronics revolution with unlimited industrial value.
Graphene Korea 2020 will be organized in Incheon/Seoul (Rep. of Korea) from 27 to 29 May, 2020. This event will cover the latest technology developments, applications, commercialization progress, end user requirements and challenges for Graphene and 2D Materials. Don't miss on this great opportunity to explore the graphene potential.
Forum Topics

The Graphene Korea topics include:

Fundamental Science of Graphene and 2D Materials Beyond Graphene, Theory and Simulation,

Growth, synthesis techniques and integration methods,

Graphene modification and functionalization,

Large scale graphene production and Characterization,

Characterization techniques (AFM, SPM, TEM, etc.)

Chemistry and biology studies of graphene and 2D Materials

Graphene Coatings, Thin Films & Devices, Graphene Derivatives

Graphene-based nanocomposites: recent scientific studies and applications, Composites & Printing

Applications of graphene and related 2D materials in electronics/ Flexible Electronics, high frequency devices, Photonics and Plasmonics, Magnetism and Spintronics, Optoelectronics and sensors, Quantum transport,

Applications of graphene in energy, including photovoltaics, energy storage, fuel cells and hydrogen storage,

Application of Graphene in health and biomedical areas,

Graphene-related health and environment research/ Toxicity

Graphene: Innovation and commercialization.
Workshop on How to get published: Writing, submitting, and promoting your research (29 May 2020)
As part of the conference, the event commitee offer the participants the opportunity to attend on Workshop on How to get published to be held on the 29 May 2020. The workshop will provide authors with information and strategies for improving their publications record. Topics include, but are not limited to, practical aspects of manuscript preparation, efficient data presentation, open access journals, measuring impact, the paper submission process and peer-review system, copyright law and social media exposure. It will be delivered by Prof. Tomasz Liskiewicz, Manchester Metropolitan University, UK.
Click here for more details about the workshop programme and the trainer.
Don't miss to register as soon as possible as places are limited.